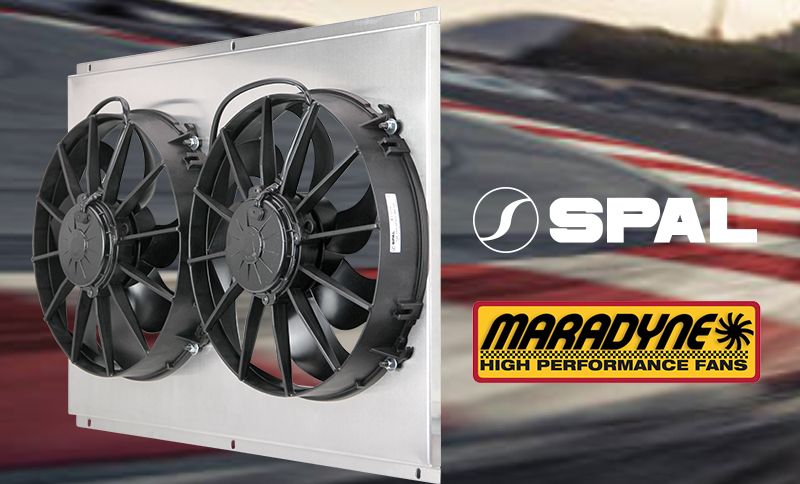 Performance Fans & Custom Shrouds
To ensure you get the most cooling from your high performace radiator, you'll need good air flow. Adrad Performance Products offers some of the world's best high performance electric fans.
SPAL are world-recognised manufacturers of electric cooling fans delivering high performing, reliable cooling for automotive and motorsport applications. Spal fans are fitted as original equipment to vehicles made by manufacturers including Audi, BMW, Caterham and Harley Davidson and are used in motor racing by teams including M-Sport WRC and Prodrive.
SPAL fan sizes range from 4" - 16" with air volume movement from 147 cfm up to 3000 cfm.
MARADYNE fans feature heavy duty electric motors for long life and all plastic components are moulded out of 100% glass-filled nylon for premium strength. The units are fully sealed to ensure they are water and dust resistant for maximum durability in harsh conditions. Maradyne's fan range features a reversible skew blade which can be used as a 'pusher' or 'puller' depending on power polarity. They are used around the world and feature in NASCAR race cars, hot rods, off-road vehicles, drag cars, mobile generator sets and military vehicles.
MARADYNE fans include 12 and 24 volt models ranging from 9 inch through to 16 inch with air flow up to 2170 CFM.
A properly fitted fan shroud is essential achieve the best from your electric fan(s). Adrad can fabricate a custom shroud that perfectly fits your chosen high performance radiator and fan combination.